KT Tunstall, singer, songwriter, guitarist
I was living in Edinburgh, on the dole, trying to make it as a musician. I was once so skinny that I stole broccoli from a field. I moved to London in 2000, after I had signed a record contract, but I was in this awful situation where the company was saying, "We need bachelors."
So I was sitting in my expensive brat cellar in Gospel Oak at 2 a.m. looking at CDs, when I picked up Horses by Patti Smith. On the cover of the album, she's wearing this white T-shirt, black bows, and a jacket over her shoulder. She looks cool because she's not trying. You could see she had the life: no makeup, no glamor, no plastic surgery. And that fueled the first line of Suddenly I See: "Her face is a map of the world." I knew she traveled and wanted so badly to be a touring musician, too, that my guitar slung on my back.
The chorus was thinking, "What the hell, this What do I want to be." Not a famous pop star with lots of money, but such a woman who lives her life as an artist. I've been trying for over 10 years to become a professional musician. I was just exhausted trying to convince other people that I was good enough.
The entire song was finished and dusted off in literally half an hour. But there was a pivotal moment when we were recording it when producer Steve Osborne said to our drummer, Luke Bolen, "Follow her right hand." Playing rhythm guitar is one thing, but all of a sudden I could see it was syncopated and polyrhythmic and it was rocking. When I watch cover bands play the song, they rarely hear it because they don't use a Bo Diddley beat. And when I hear it happen in stores, it still sounds really different than anything else.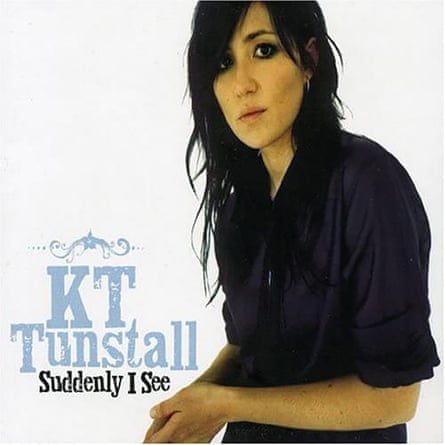 It was one of my formative records Bone Machine by Tom Waits, and I always equated that unprocessed voice with truth and authenticity. You know, feet in the room are stamping, people are breathing – I never want to take that stuff out. That is why "Suddenly I See" sounds so meager. Air and space are just as important as anything we put on. In my voice, there is no reverb, no auto-tuning and no vibrato. I have never been interested in vocal gymnastics. What impresses me is when someone makes me feel. However, my voice has certainly survived through the years. I look so angelic all of a sudden I see!
That song took me on extraordinary adventures and I never get tired of playing it. The way people respond when I play those opening chords – that's the greatest desire of a musician's ego. But it means I've got one foot in a world where I don't feel like I belong because it made me a pop star — and I really do crap for being a pop star. I'm much better at being an independent musician.
My label boss says he always knew that Suddenly I See would be a smash. And I'm like: "No, you totally didn't." We all thought it was a catchy tune.
Steve Osborne, Producer
It was KT's voice that made me want to work with her. She's spent years working at work, going around record labels, and not getting a deal. But I was invited to watch her play at a small club in Soho, and her vocals and the rhythmic quality of her guitar playing was a real thing. These qualities were not present at all in my demo of Suddenly I See. It had a computer vibe and a light hip-hop drum loop. For me, the whole idea of ​​the studio version was to put KT front and center and give it an earthy feel.
The first thing she said to me was that her boyfriend was a percussionist and she wanted to use him for sessions. This is usually a producer's worst nightmare, like, "Will it be any good?" But KT's rhythm guitar and drums became the backbone of the song. There is also a Cajun driving everything. So, there are three different beats in one song.
The kiss of death when you go to an album is someone says, "This is the song," but suddenly I wasn't seeing it on anyone's radar, so we just followed through with what the song wanted. It all starts at the front. The bass is very distorted, and then I got this ringtone, played on a Wurlitzer guitar and piano. Because it's a pop song, you don't notice how sloppy it sounds. If the label had told me it was going to be a single, I might not have gone that far.
The label came down to hear what we had and there was silence after that. I got a phone call the next morning saying, "We need to talk." I said to them, "Look, we need to push this song as far left sonically as possible, because it's easier to make something dirty and then drag it back to the pop." And I have to give them credit because these days I think I would have been fired.
KT was feisty and full of life, and we had an argument in the studio about direction. At the time, you weren't really a studio person, so you could have found it more of a vintage than a live situation, which is where it really thrives. Sometimes I had to catch her off guard and catch her when she didn't realize I was doing it.
Anyway, we played this old blues CD in the car every morning on our way to the studio. Things like Lead Belly, Robert Johnson and, in particular, Bo Diddley, where the rhythm comes from suddenly I see. That blues was something we wanted to take on. KT definitely has that quality of voice where she can go from really quiet to loud and blues.
When I walked into a store and suddenly heard it I felt like a validation. But seeing The Devil Wears Prada was great. I heard the song was on the soundtrack, but then I went to see the movie and it was like, 'Jesus, It plays on the entire front!"