It was shaping up to be a night when Harry Maguire made the wrong headlines, when Gareth Southgate was in more pain, as he searched soul around. England And the depth of their manager. The team was promising in the first half against its old opponents, but it all threatened to collapse.
A horrific mistake by Maguire, a loose pass followed by a hasty challenge on Jamal Musyala, awarded Ilkay Gundogan a 1-0 penalty. Then urge more crush Maguire Germany To break and how Kai Havertz executed the penalty with a powerful shot from distance.
England has blown its holes. Germany gave them a lesson in how to be clinical. Then Southgate and his players tore up the script. It was Luke Shaw who offered a glimmer of hope when he climbed home from Reece James' cross; Mason Mount who ignited the Wembley crowd in frenzy.
He was introduced by Southgate and Bukayo Saka from the bench. After the latter turned around and drifted in front of players from Germany, Mount ran on his heavy passes to fire a shot past Marc-Andre ter Stegen.
Saka was brilliant. So was Judd Bellingham. The Borussia Dortmund midfielder would win the penalty soon after, in which Harry Kane set up the top corner. Despair of joy within 12 minutes. A late sting, Nick Pope who handled a foul that caused Havertz to score a second goal, was in keeping with the chaos.
But that didn't stop Southgate from being widely cheered when he embraced his opposite number, Hansi Flick, full time. Saka nearly broke it in injury time, drawing a finger tip fed off Ter Stegen after a quick break. It could have been too much.
Germany had been deadlocked, with just one win in their previous six matches and on the back of a 1-0 loss at home to Hungary – the first drop in Flick's tenure. They needed something here, but it felt as if England's need was greater, mainly due to the hysteria that follows every step of the team, especially the wrong ones.
Southgate essentially stuck to a squad that suffered so badly in the 1-0 defeat to Italy, and when the team was first announced on the PA system at 6.58pm, Maguire's name was booed. It happened two more times before the match kicked off. Will it be one of those nights, one of those crowds?
England were the most active team before the first half. They created chances, which is encouraging, and they created the big ones in 25 minutes. It was all about seeing Phil Foden, who had been working purposefully and that easy balancing act from the start; Also investigate with his passes.
The one who introduced him to Raheem Sterling was fantastic and he was in England when the striker cut inside Nico Schlutterbeek to open up a one-on-one with Ter Stegen. Germany goalkeeper made biomass.
This was the impetus for England's rampage. Sterling found Foden, who had Kane in the middle only to pull the cross behind him; Kane hit the far post after Germany missed a corner and Sterling missed Foden's pass in a promising break. England needed to be extra careful with the final action. There were plenty of other examples of default in this regard in the first half.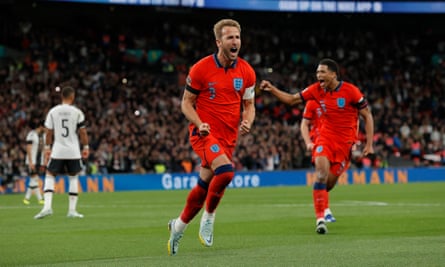 Southgate's belief in the Pope was an interesting detail. Injured Jordan Pickford remains his number one goalkeeper, but Bob appears to have come up with Aaron Ramsdale as a substitute. However, the distribution of the pope is still a work in progress. There were moments of anxiety when England returned to him.
Bob was unfazed by his hands in the first half. The closest that came in Germany was in stoppage time when Joshua Kimmich fired a low shot into sight. Sterling also avoided having Thelo Kerrer shirt pulled into the area, although the German full-back's fall was theatrical.
Germany's last streak was very high and I felt there were chances for England behind it. They just need to be more precise. Sterling finished the first half by taking Kane's pass and, under pressure, fired on Ter Stegen.
Maguire could hear the fans behind one of the goals singing his name in half an hour. He had settled into his game and felt like it might turn out to be a good night for him. Then things went wrong.
Maguire's first foul came when he attempted a pass to the left as the last man and was too close to Jamal Musiala who intercepted it. When the former Youth England international ran towards him, making gradual steps into the box, alarm bells rang. Maguire lunged and simply kicked Musila; Fleet had given his opponent too much. The only surprise was that the VAR had to intervene to suggest that the penalty kick be awarded. Gundogan never seemed to be missing out. "Football is coming home!" Germany fans shouted. t huh.
England, who lost John Stones in the first half of a tug of war, scrambled with the franchise. Moments ago, Sterling curled up at Ter Stegen. Now they seem ready to introvert. Eric Dier slipped but substitute Timo Werner was hit by a cross. Niklas Süle dug extensively after he treaded his path. Musiala evaded Maguire's wild interference before playing at Werner, who fired in a roar.
The second goal was coming, and when it did, it was fantastic, with Kai Havertz curling a left-footed ball into the far top corner after a fatal break. England lost possession of the ball through – yes, unfortunately – Maguire.